When I can't sleep and want to be entertained, I turn to John Lithgow. I recommend you do the same. The 72-year-old's body of work, I can only assume, is already popular with my millennial peer group. After all, while Lithgow may be a few rom-com credits shy of becoming America's sweetheart, he's nonetheless the best actor of this generation — kind of like America's droll family friend whom everyone affectionately refers to as their uncle.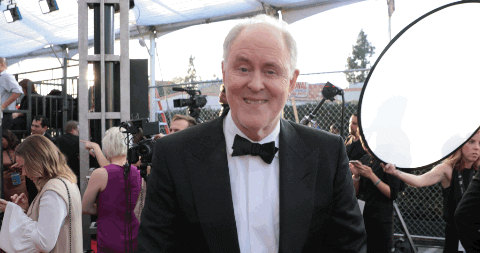 Lithgow, a native of Rochester, NY and two-time Tony winner, made his stage debut as a young child, thanks to his father, a theater producer and director. He boasts a prolific off-stage acting career, too, having appeared in more than 50 movies and 15 TV shows since the '70s. Not that he's showing any signs of slowing down: This month, Lithgow returned to Broadway with his one-man show, Stories by Heart. And in the past year, his plaintive eyes have popped up on screen so often that I'd be remiss not to use the term "Lithgow-aissance."
So, naturally, once bedtime has come and gone, and it's time to crawl under the covers and prop up my iPhone just close enough to my head that, if I shut one eye, I can nearly make out what's happening on its tiny screen, there's no blurry face I'd rather almost-see than that of the actor, logophile, and person I can't really call my best friend in sound mind, John Lithgow.  
Whether you're a devoted Lithgowian, or haven't yet realized how much you love Lithgow's impish-verging-on-batty grin, here are six Lithgow masterpieces to keep you company all night long.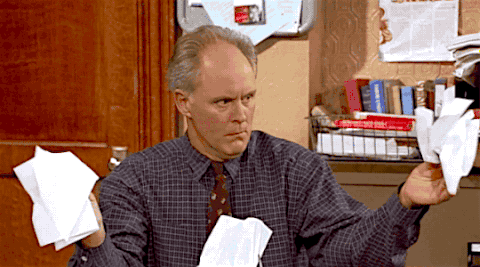 Third Rock from the Sun (1996-2001)
Lithgow as: Dick Solomon, an alien posing as a physics professor in Ohio.
Why you should watch it: Years before TV went highbrow, Lithgow took his talent and theater training to this silly (and, might I add, underrated) network sitcom. But it wasn't a step down, as I'll go to my grave arguing. Third Rock gave Lithgow the chance to go full-Lithgow, and serve up unhinged pomposity for six years. There isn't a moment on Third Rock in which Lithgow takes a break from fully embodying an impetuous alien trying to pass as human. Unlike a lot of '90s sitcoms, there's nothing cool or subtle or disaffected about the humor of Third Rock. And when it's 3am, and your lucidity is fading, each episode is a destination for belly laughs.
Where to watch it: Amazon Prime
The World According to Garp (1982)
Lithgow as: Roberta Muldoon, a transgender ex-football player.
Why you should watch it: I made my dad drive me to Blockbuster one Friday night in high school so I could rent Garp — only 20 years after the film, an adaptation of the 1978 John Irving novel, hit theaters. Lithgow seemed like an ideal casting choice for a character from the Irving universe, where WASPy eccentrics are a common breed. But in Garp, Lithgow plays against type, proving, as he has many other times, that he transcends the very notion of "type." Lithgow's performance as Roberta is warm and unaffected, and he manages to steal scenes without mugging for the camera.
Where to watch it: Rent on Amazon or Youtube 
Beatriz at Dinner (2017)
Lithgow as: Boorish real-estate mogul Doug Strutt.
Why you should watch it: Lithgow is a foil to Salma Hayek's Beatriz, a righteous activist and holistic healer of little means. Doug is not a classic Lithgowian oddball, but he is over the top — bragging about rhino-hunting and brimming with the sort of nauseating charm endemic to one-percenters. In the hands of another actor, Doug could have been a loathsome rich guy you hate and then forget, but Lithgow's Doug is a loathsome rich guy who stays with you.
 Where to watch it: Rent or buy on Amazon Prime
Harry and the Hendersons (1987)
Lithgow as: George Henderson, a dad with two kids, a wife, and a Bigfoot named Harry.
Why you should watch it: The Spielberg family film was critically maligned, described in one review as "aggressively awful … so pin-headed that it could be the last of its inbred line." But it was also a huge hit, and one that I recall watching on VHS, howling as Harry wreaked havoc on his suburban surroundings. In the film, Lithgow plays an all-American family man handling an absurd situation — his family finds and comes to love a yetti —  rather than the source or focal point of the absurd situation. And he pulls off the stern-but-loving dad thing easily, one shocked reaction at a time.
Where to watch it: Netflix
Trial and Error (2017)
Lithgow as: Larry Henderson, a poetry professor accused of murdering his wife.
Why you should watch it: Lithgow turned the first season of the NBC true-crime spoof into a proper Lithgow showcase. Larry, in many ways, belongs on Dick Solomon's family tree; both characters are out-there academics defined by guileless self-absorption. But, compared to Dick, Larry is less paranoid about revealing his quirks, much to the chagrin of his defense attorney. Also, Larry loves to "rollercize." 
Where to watch it: Hulu
Dexter, season 4 (2009)
Lithgow as: Arthur Mitchell, aka the Trinity Killer.
Why you should watch it: I'll admit I haven't watched all of Dexter. But I went back and streamed the fourth season to see Lithgow's Emmy-winning turn as a veteran serial killer  with a squeaky-clean facade. It's another instance of Lithgow playing an outsider who's playing normal. And he gives a genuinely terrifying performance as the Trinity Killer, who kills his victims three at a time, in three different, grisly ways. Some people might consider Lithgow's stint on Dexter to be an "only during the light of day when someone else is home" viewing experience. To those people, I say, "fair."
Where to watch it: Netflix